Call anytime: +44 208 004 7639
Online
Biomedical Engineering Tutors
The Profs find expert tutors in any subject and for all levels of study. 98% of our students get their target grades.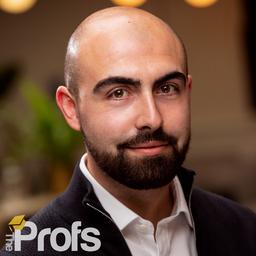 1765 Hours Taught
Highly experienced Medicine tutor with a PhD in Cancer ...
98% of our students get a
grade increase
We've helped over 13,000 students boost their grades by an average of 13% in their final examinations.
I want to increase my grades
Work with
the best tutors

in the world

40% of our tutors have PhDs, 90% are postgrads, 100% have over two years tutoring experience.

Find My Tutor
Award-Winning


Institution and Services
Best Tuition Business and Best Tuition Delivery to Private Clients of the Year 2023.
Best Customer Service of the Year 2022.
Contact Us
The
highest-rated

tutoring company on TrustPilot since 2016

9 out of 10 customers said they would recommend us to a friend (and they do!)
Find My Online Biomedical Engineering Tutors
Please wait until you are redirected, submitting your enquiry can take up to 5 seconds!
Or fill in the form below and we will call you:
We do not facilitate cheating or academic misconduct in any way.
Please do not call or request anything unethical from our team.
Our Top Biomedical Engineering Tutors
We Can make the difference
Nima
I went from 43% in first year to receiving a masters offer at the LSE! Having almost failed my first year I decided to get tutoring from The Profs in my second year. Thanks to the brilliant quality of the tutors I managed to score a 1st in my second year and receive an offer for the LSE Masters in Management. A big thank you to The Profs.
We Cover All Subjects
We've Got Your Back. From Anthropology to Zoology, we have you covered.
More subjects
Frequently Asked Questions
Ace your degree or excel in business with the help of our top tutors.
The Profs deliver private tuition to students at various levels studying biomedical engineering, bioengineering or biotechnology. Our bioengineering tutors, consisting of distinguished academics from the UK's top universities and biomedical professionals, have expertise in helping students understand difficult concepts in mathematics, medical sciences and biomedical Instrumentation. Feeling comfortable and confident with these concepts is often the key factor in succeeding your studies, achieving high marks in your exams and/or excelling in your field. All our tutoring sessions are tailor-made and based on students' needs and aims. Our biomedical engineering tutors provide extensive support in several ways. They will work with you to work out solutions to problems and past exam papers or projects and they can review worksheets and assignments to plan and implement your dissertation and other projects.
Biotechnology tutoring will support you every step of the way and will encourage and motivate you. Whether you are a student studying biomedicine, an engineering student focusing on medical applications, or an MSc student specialising in research and development, our bioengineering tuition will give you the skills needed to help you succeed. You may wish to focus on a specific subject you are struggling with, such thermodynamics and kinetics, molecules, cells and processes, biomolecular structure and function etc. We can provide you with a top engineering tutor specialised in the subject you need help with.
Our biomedical engineering tutors can also assist you with your various project work, dissertations and practical assessments. Our tutors are available to tutor face-to-face as well as via online using interactive tools.
Popular Biomedical Engineering Help Requests
Mechanics Tutor
Thermodynamics and Kinetics
Biomolecular Engineering
Medical Science
Signals and Control
Biomedical Instrumentation
Biomechanics
Biomaterials
Human Centred Assistive and Rehabilitation Devices
Synthetic Biology
Regenerative Medicine
Tissue Engineering
Cell Biology
Cell Production Growth
Molecular Biology
Biochemical Engineering
The UK's highest rated tuition company since 2016 on Trustpilot