Call anytime: +44 208 004 7639
Geography Tutors
Looking for expert Geography Tuition?
Welcome to The Profs
---
We provide face-to-face Geography tuition in London and online Geography tutors worldwide.
Our Geography tutors are hand-picked from the best universities and rigorously interviewed.
They work with students and professionals at all levels – from beginner to advanced – from all over the world.
Contact us for a free initial consultation and we will find you an expert Geography tutor tailored to your exact needs.
We have a Not Happy? No Charge policy on your first tutorial.
Geography tutoring rates start from £55 per hour with a one-off matching fee of £50 – our pricing is transparent with no hidden costs.
* We do not facilitate cheating or academic misconduct in any way. Please do not call or request anything unethical from our team. *
Our Top Geography Tutors
Kelly
Seven years tutoring experience, offers support for aspiring Lawyers, teaches A-level to post graduate level.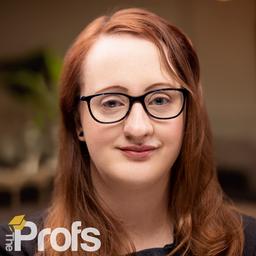 ( 649 Hours )
Background Check
Face to Face or Online
About Kelly
Attended:
BPP University
Queen Mary, University of London (University of London)
I am returning to tutoring after having to withdraw from my position as a Pupil Barrister due to family illness. I offer my tutees a personalised 1-2-1 service with notes that are tailored to the tutee's course and learning style. I am a highly motivated tutor and independent learner. I am passionate about teaching, learning and professional development.
I have held many varied teaching/ mentoring and tutoring positions. I care deeply about all of my tutees and helping them succeed. I am happy to help my tutees both academically and professionally as I provide services that cover academic modules, dissertation planning, essay marking, CV writing, job application assistance and professional development.
Dr Sian
Experienced Physics and Maths tutor, MSci and PhD in Physics from Imperial College London
( 152 Hours )
Online
About Dr Sian
Attended:
Imperial College of Science, Technology and Medicine
As a qualified science teacher with a PhD in Atmospheric Physics from Imperial College, I have experience tutoring a range of students, from Year 5 students preparing for the 11+ exams right through to postgraduate students who need some support with their research.
I have taught science at schools in London and was graded Outstanding in my PGCE.
Jack
Enthusiastic, approachable and highly qualified Earth Science Lecturer with a PhD in Geoscience with Biology (Newcastle University) and a First Class Research Masters Degree in Geology (University of Liverpool).
( 99 Hours )
Background Check
Online
About Jack
Attended:
University of Liverpool
Newcastle University
I am an enthusiastic, approachable and highly qualified University Lecturer in Earth Science (Edge Hill University), with a PhD in Geoscience with Environmental Science (Newcastle University) and a 1st Class Research Masters Degree in Geology (University of Liverpool). I have experience in academia (lecturer) and in industry (oil and gas rigs) and I have given lectures internationally, winning numerous awards for communication. Although I have a lot of experience, I have not lost sight of the challenges that face students as they use my tutorials to learn and develop their own knowledge base.
Originally from Wirral, I developed a keen interest in Natural Science from an early age. I have always been passionate about science and I sympathise with students who learn best on a one-to-one basis because I was once in the same boat. I also understand how different students prefer specific learning styles and I work hard to incorporate these qualities into my tutorials.
I know the importance of tailoring every session to match each student's specific objectives, whether it be grade-driven, university exam preparation, general foundation or out of interest. Through my online tutorials, we will push the boundaries of online learning, through practical lessons, web-based field courses and other innovative activities. I also run more traditional, taught learning style lecture courses. Each are optional and tailored to the individual's preferences. I can help with anything from GCSEs to A-levels to undergraduate and post-graduate degrees. I have personally been through each stage myself and I know each grading system well.
Together, we can meet our goals and succeed.
Testimonial
The Profs are excellent: responsive, efficient and flexible. My son found an excellent tutor, David to read and comment on essays and steer in the right direction as this wasn't his comfort zone. Time was a bit tight but it was turned around quickly and good clear advice was given. Will definitely recommend and use again. Thank You.