Call anytime: +44 208 004 7639
Matlab Tutors
Looking for expert Matlab Tuition?
Welcome to The Profs
---
We provide face-to-face Matlab tuition in London and online Matlab tutors worldwide.
Our Matlab tutors are hand-picked from the best universities and rigorously interviewed.
They work with students and professionals at all levels – from beginner to advanced – from all over the world.
Contact us for a free initial consultation and we will find you an expert Matlab tutor tailored to your exact needs.
We have a Not Happy? No Charge policy on your first tutorial.
Matlab tutoring rates start from £55 per hour with a one-off matching fee of £50 – our pricing is transparent with no hidden costs.
* We do not facilitate cheating or academic misconduct in any way. Please do not call or request anything unethical from our team. *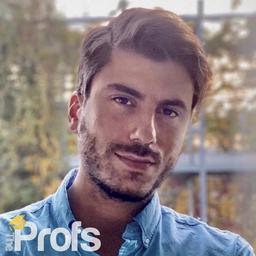 Our Top Matlab Tutors
Dr Nikhil
Cambridge Graduate, PhD in Financial Econometrics, More Than 1,000 Hours Taught with The Profs
( 1,464 Hours )
Online
About Dr Nikhil
Attended:
University of Cambridge
Imperial College of Science, Technology and Medicine
I specialise in consulting and training in quantitative subjects. Through my PhD and research I have gained extensive computing skills, namely in C++, MQL4, Python, Matlab, and SQL. I have been a quantitative tutor for The Profs for over 6 years (over 80 clients and over 1000 sessions completed).
Previously, I worked at Accenture in the area of Data Warehousing / Business Intelligence. I delivered onsite training for Warner Bros. Italy (client of Accenture UK) and through The Profs I have delivered Python training for WiredScore for 2 years,
Veronica
PhD Researcher at the University of London. Specialist in Computer Science and Data Analysis.
( 322 Hours )
Background Check
Face to Face
About Veronica
Attended:
Institute of Education (University of London)
University of Bath
PhD Student. Researcher. Computer Scientist. Data Analyst. Educational Data Mining. Data Science. Education Technology. Brain Science. Cognitive Neuroscience. Critical Thinking. Big Data. Open Source. Interaction Design. Responsible Research. Ethical Data Manipulation.
PhD Learning Analytics @ UCL Institute of Education
Masters Learning Technology @ UCL Institute of Education & Birkbeck
Computer Science @ University of Bath
Worked as a Product Manager @ Pearson Plc
Worked as a Software Developer @ Prospectsoft
EdTech Consultant @ UNESCO
Dr Federico
PhD in Aeronautics from Imperial College London and a Formula One Stress Engineer.
( 210 Hours )
Face to Face or Online
About Dr Federico
Attended:
Imperial College of Science, Technology and Medicine
I'm a mechanical engineer, with a PhD in Aeronautics from Imperial College London, and MSc in MechEng, currently working as a Stress Engineer in a F1 team.
I like having a proactive approach to tutoring, I enjoy preparing extra material ahead of the lectures, and I'm always easy to reach by email/phone for any doubts or clarifications.
Testimonial
The profs have been an amazing service to use, just what I needed to give me boost in reaching my potential in my studies. Vyvyan was very warm, helpful, patient and proactive and made the whole process very simple and straightforward. He ensured that I received exactly the right prof for my needs and he was spot on! Bernice is very experienced, kind, understanding and easy to talk to. She has been brilliant so far and very helpful and I'm very happy to be working with her as she has given me a renewed sense of self confidence and morale. I would definitely recommend her and the profs to anyone who wants to reach their optimum potential. They are absolutely fantastic and will provide you with what you need and more!