By focusing on time left until each exam, we can create better revision strategies for each subject. One great tip is "radial revision©" – revising for your last exams first and last. Let's say you have exams in 12 days (Arithmetic), 15 days (Biology) and 18 days (Chemistry). If you want to revise for them equally (as dictated by your Flunk-O-Meter) then you'll want to spend 6 days revising for each.
My optimal strategies are shown below:
Notice that the run up to each exam is focused on just that exam, and each exam gets equal timing. This should maximise the focus spent on each subject and therefore the expected grades. There are many variations depending on your exam schedule, difficult and your own strengths and weakness. However, the principle still holds – plan your revision days well in advance to prevent leaving subjects under-revised.
The mistake that most students make:
Focusing too much on exam A leaves only 3 days (well, technically 2.5 given you cannot revise when sitting the other exams) for B and C. This is far from optimal.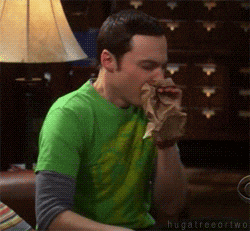 The optimal strategy prioritises each subject equally and leaves no exam under-revised. Now that you know how to organise your revision, further improve upon your actual revision techniques with our sticky note hack!
And then… check out how to keep on top of your studies with our Revision Hacks.