Call anytime: +44 208 004 7639
Dr Ramsay's Tutoring Profile
My overall philosophy of teaching is simple: I hope to make the students that I interact with some how richer from their experience(s) with me. A part of my role as a teacher is to facilitate the learning of factual information and key principles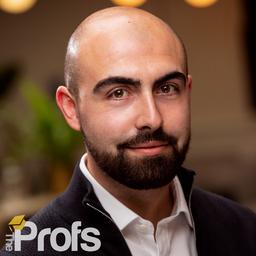 ( 1,526 Hours )
Background Check
Face to Face or Online
Book Dr Ramsay
Attended:
Queen Mary, University of London (University of London)
Queen Margaret University
I am an enthusiastic and energetic individual who is both self-motivated and proactive. An excellent communicator at all levels internal & external can be relied on to work well both as part of a team and individually. I thrive on a challenge and have delivered my best results when faced with pressing targets.
As well as possessing a BSc, MSc, and PhD from Queen Margaret's University and The London School of Medicine, I have a vast experience of teaching at all levels. Currently I teach two days a week, lecturing in Critical Analysis.
Experience
My teaching experience covers:
1)Supervision of masters and bachelors students in the Lab
2)Teaching Masters students once a semester, giving lectures and tutorials
3)Demonstrating and giving tutorials at Queen Mary University
4)Grading of exams and presentations at Barts Medical school
5)Dissertation supervision for Undergraduates and Postgraduates at Queen Mary University, Barts Medical School and externally for University College London
6)Lecturer at UCL
7) Assistant Professor University of New Haven Connecticut
Through The Profs I have carried out 1,067 hours of tuition covering...
1) Biology
2) Medicine
3) Nutrition
4) Neuroscience
Qualifications
BSc Applied Pharmacology - Queen Margaret University (1st)
MSc Cancer Therapeutics - Barts and the London School of Medicine (Distinction)
P.h.D Cancer Therapeutics - Barts and the London School of Medicine
Awards & Achievements
Society of Biology Award 2009 Top Student Award (Scotland) 2010 William Harvey Award (2012) Top PhD Student (2017)