Call anytime: +44 208 004 7639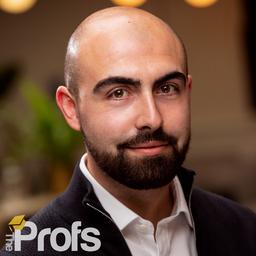 1715 Hours Taught
Background Checked
Face to Face or Online
Fast Response Time
Book Dr Ramsay
Dr Ramsay Tutoring Profile
Highly experienced Medicine tutor with a PhD in Cancer Therapeutics
About
Dr Ramsay is a highly experienced Medicine tutor. He has a Bachelor's degree in Applied Pharmacology from Queen Margaret University as well as a Master's and PhD in Cancer Therapeutics from Barts Medical School and the London School of Medicine. Dr Ramsay was also a Lecturer at UCL, an Assistant Professor at the University of New Haven Connecticut, and a Dissertation Supervisor at Queen Mary University and Barts Medical School. He is extremely knowledgeable about the medical admissions process in the UK as well as being an expert in his subject areas, with thousands of hours tutoring students in Biology, Medicine, Nutrition, Neuroscience, and more. Dr Ramsay is also extremely reliable and an excellent communicator who consistently delivers results for his students.
Attended:
Queen Mary, University of London (University of London)
Queen Margaret University
Experience
My teaching experience covers:
1)Supervision of masters and bachelors students in the Lab
2)Teaching Masters students once a semester, giving lectures and tutorials
3)Demonstrating and giving tutorials at Queen Mary University
4)Grading of exams and presentations at Barts Medical school
5)Dissertation supervision for Undergraduates and Postgraduates at Queen Mary University, Barts Medical School and externally for University
6) Assistant Professor University of New Haven Connecticut
Through The Profs I have carried out 1,067 hours of tuition covering...
1) Biology
2) Medicine
3) Nutrition
4) Neuroscience
Qualifications
BSc Applied Pharmacology - Queen Margaret University (1st)
MSc Cancer Therapeutics - Barts and the London School of Medicine (Distinction)
P.h.D Cancer Therapeutics - Barts and the London School of Medicine
Awards & Achievements
Society of Biology Award 2009 Top Student Award (Scotland) 2010 William Harvey Award (2012) Top PhD Student (2017)