Call anytime: +44 208 004 7639
Dr Amar's Tutoring Profile
CFA Charter Holder, Former lecturer of Economics at Stanford University, PhD in Economics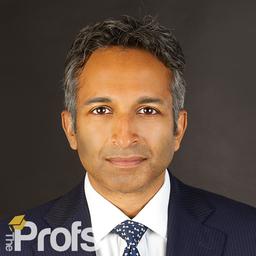 ( 1,706 Hours )
Background Check
Face to Face or Online
Book Dr Amar
Attended:
Stanford University
Princeton University
I have extensive experience of over 20 years teaching in lecture, classroom and one-on-one settings. I have been teaching with The Profs since April 2017 with undergraduates, postgraduates and professionals across multiple disciplines in economics and finance.
My career has covered strategy consulting, finance, and economics. My consulting background includes McKinsey & Company in New York, and the corporate strategy group at BlackRock Inc. in London. Previous to this, I did M&A work at Lazard and private equity work at The Blackstone Group, both in New York. I am a CFA charter holder.
Experience
For the past thirteen years I have provided tuition in economics, philosophy, mathematics and psychology on a full-time basis, ranging from KS1 all the way through to PhD level. I have also provided coaching for Oxbridge interviews through the charity Teach First.
I have taught students from various universities including Cambridge, Oxford, LSE, and Harvard. I have also led undergraduate classes at UCL in logic and philosophy, and am a senior mentor for the United Kingdom Mathematics Trust.
Qualifications
Ph.D. Economics - Stanford University 2006
Economics - Princeton University 1997 (Magna Cum Laude); Certificate in Engineering Management Systems
Awards & Achievements
4 time recipient of the Outstanding Teaching Assistant Award
Recipient of the Centennial Teaching Assistant Award