Call anytime: +44 208 004 7639
Online
Programming Tutors
The Profs find expert tutors in any subject and for all levels of study. 98% of our students get their target grades.
318 Hours Taught
Experienced tutor and PhD researcher with a Master's ...
98% of our students get a
grade increase
We've helped over 13,000 students boost their grades by an average of 13% in their final examinations.
I want to increase my grades
Work with
the best tutors

in the world

40% of our tutors have PhDs, 90% are postgrads, 100% have over two years tutoring experience.

Find My Tutor
Award-Winning


Institution and Services
Best Tuition Business and Best Tuition Delivery to Private Clients of the Year 2023.
Best Customer Service of the Year 2022.
Contact Us
The
highest-rated

tutoring company on TrustPilot since 2016

9 out of 10 customers said they would recommend us to a friend (and they do!)
Find My Online Programming Tutors
Please wait until you are redirected, submitting your enquiry can take up to 5 seconds!
Or fill in the form below and we will call you:
We do not facilitate cheating or academic misconduct in any way.
Please do not call or request anything unethical from our team.
Our Top Programming Tutors
Background Checked
Face to Face or Online
Fast Response Time
Masters of Physics from the University of Manchester and specialist STEM subject and university admissions tutor
Joshua is an experienced Mathematics, Physics and Computer Science tutor, teaching at all levels (A-level, IB, GCSE, etc.) and across most exam boards. He has a Master's in Physics, with first-class honours, from the University of Manchester. He has successfully supported students with applications to top universities, including admissions test preparation for the PAT, ENGAA, NSAA, MAT and STEP. Joshua helps students with programming and scientific computing in Python, MATLAB, Julia and C++.
Background Checked
Face to Face
Fast Response Time
Experienced tutor and PhD researcher with a Master's in Computer Science from the University of Bath
Veronica is a PhD researcher and experienced tutor. She has a Bachelor's degree in Computer Science from Birkbeck University and two Master's degrees in Computer Science, from the University of Bath, and Education Studies, from the Institute of Education. Veronica's educational and professional experience, working as a Product Manager at Pearson Plc and an EdTech Consultant at UNESCO, means she has a wide range of specialisms, including Computer Science, Data Analysis, AI, Data Science, Neuroscience, Interaction Design, and more. She has successfully supported both undergraduate and postgraduate students with assignments, dissertations, and research projects, as well as helping them to develop the skills necessary for future research, including ethical practices.
Attended:
Institute of Education (University of London)
University of Bath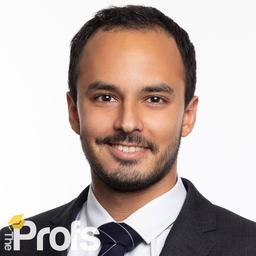 Background Checked
Face to Face or Online
Fast Response Time
Experienced Data Scientist with a Master's in Machine Learning from UCL
Sean is an experienced Data Scientist and private tutor. He has a Bachelor's degree in Mathematics from Imperial College London, a Master's in Machine Learning from UCL, and Part III of the Mathematical Tripos (Master's) from the University of Cambridge. Sean specialises in tuition for a range of quantitative subjects, including Mathematics, Statistics and Programming (particularly Python and R), as well as preparation for standardised tests such as the GMAT, GRE and AP.
Attended:
University College London (University of London)
Imperial College of Science, Technology and Medicine
University of Cambridge
Background Checked
Online
Fast Response Time
Google Software Engineer and experienced Web Developer with a Computer Engineering degree from QMUL
Shahidul is a Software Engineer at Google and an experienced tutor. He has a Bachelor's degree in Computer Engineering from Queen Mary University of London (QMUL) and has a wealth of experience in industry, working as a Lead Application Developer at EB Trade, a Software Engineer at Imperial College London, a Web Application Developer at London School of Hygiene and Tropical Medicine, and a Software Developer at QMUL. Shahidul teaches a wide range of programming languages, including Python, Java, PHHP, HTML, CSS, JavaScript, and more, as well as tutoring subjects ranging from Mathematics and Computer Science to Data Analytics and Artificial Intelligence.
Attended:
Queen Mary, University of London (University of London)
Reviews
Our Computer Science Tutors Make a Difference
Personable & Reassuring Service
The Profs provide such a great service. From start to finish I felt like they really wanted me to succeed and made sure I was comfortable with my tutor and ready for my exams. I could contact them with any concern and they were happy to tailor to my needs. Oh and I passed!!
Truly Fantastic
What a truly fantastic company! Very friendly to deal with and well organised. I had 2 different tutors, both of whom I would highly recommend, who helped me to achieve me a grade I never thought I could.
The Profs are a great company with a…
The Profs are a great company with a great Team of tutors. From the initial contact to working with the Tutor , everyone that I worked with was helpful , practical & worked to get the best solution for me !!
Very happy with The Profs
Very happy with The Profs, from my initial query to achieving my final grades, it has been all good, all the team were very helpful, thorough, kind and friendly, the tutors were great. I would highly recommend this company
Computer Science (IB HL)
My son needs help in his Computer Science for IB and The Profs found Muhammad for us who is proving very supportive. As a tutor, he allows my son to take the time he needs to reach understanding, he breaks down theory, concepts and problems into simpler steps and his sense of humour makes the lessons enjoyable. He is punctual and communicates by email as necessary in between lessons if there is a question that my son needs 'unblocking' in order to study. My son's CS grades are improving.
We Can make the difference
Nima
I went from 43% in first year to receiving a masters offer at the LSE! Having almost failed my first year I decided to get tutoring from The Profs in my second year. Thanks to the brilliant quality of the tutors I managed to score a 1st in my second year and receive an offer for the LSE Masters in Management. A big thank you to The Profs.
We Cover All Subjects
We've Got Your Back. From Anthropology to Zoology, we have you covered.
More subjects
Frequently Asked Questions
Ace your qualification or excel in your field with the help of our top tutors.
Programming knowledge is considered extremely valuable in a wide variety of disciplines. Coding and programming have become essential tools for expert data analysis. Our programming tutors have experience helping students of all levels, from beginning students to advanced professionals. Get a private programming tutor to guide you through the various programming languages and to support you in your data analysis, either as a student or a professional.MATLAB, Python and R are languages commonly used for analysing data to fit models or find patterns. The Profs can help you use one or all of these languages in your data analysis. A tutor will help you to make use of the relevant libraries to build your models and make predictions, as well as enable you to link to external applications such as Excel and MySQL for data output and storage.
Whether you are looking for a computer programming tutor to help you pass the GCSE in Computer Science, A-level in Computer Science, a Computer Science degree at university or as a professional, our tutors have got you covered. Topics such as algorithms and data structures are difficult concepts for students to grasp without the help of a good teacher or tutor. Private lessons could focus on explaining these and other computing concepts, so the student can expand their knowledge of boolean logic, data types and functions. Our tutors can go above and beyond that though, by introducing the student to a Raspberry Pi. This hands-on tuition experience will allow the student's confidence to grow along with their enthusiasm for this exciting field.
When starting an A-level in Computer Science, a student will be confronted with many new computing languages which can be very stressful. Our tutors possess excellent knowledge of these demanding languages and are true experts in R, Python, C, C++, C#, Java, Visual Basic and Delphi. With the guidance and support of a top computing tutor, you will soon master these languages and ace your exam.
A university degree in computer science and programming is highly regarded and will only gain importance in the future. However, it can be a long and hard learning process. University students will need the very best of the academic programming field to allow them to excel and be fully ready for a promising career in the computer and programming business. Our programming tutors have track-records of academic excellence in the computing field and include university lecturers but also industry experts with years of practical experience and PhDs in computing and programming. With the support and guidance of a top programming tutor we are confident we will exceed your expectations and help you improve your computer and software knowledge and skills dramatically.
Popular Programming Help Requests
Machine Learning
Artificial Intelligence
Excel
MySQL
Regression
Decision Trees
Neural Networks
COM Objects
Digital Humanities
Text mining
The UK's highest rated tuition company since 2016 on Trustpilot